The Texxon Security specialists and manufactures high quality security and locking applications with products to meet the requirements of doors, windows and cabinets made from any materials. Protecting people, property and assets is an on-going, ever changing and vital responsibility.
Originally incorporated in USA and Europe the group has diversified to become a multi-national, renowned organization with outlets throughout the world. With the best of European style and standards and incorporating German precision technology our company thrives to offer totalsecurity solutions to meet any number of complex demands of our clients.
Texxon's many years of industry experience means we are well placed to tailor integrated solutions from a diverse portfolio ofsolutions to suit every kind of projects, large or small.
Electronic and Access Control systems.
Mechanical Locks.
Architectural Doors, Windows and Cabinet Hardware.
Automatic locking solution.
Exit Hardware.
Portable Security.
Hotel Locks.
Time and Attendance and Personal Scheduling.
You can be assured when you ask for Texxon branded products that they are DIN certified and meet all Standards requirements.
Our core business is designing, manufacturing and supplying of door hardware, automated openings, access control systems and service solutions.
Our key market sectors are Hospitality, Education, Healthcare, Transport, Retail, Commercial and Leisure.
Steve K.W., Asia General Manager, comments:
"One of our key strengths is that we have the capabilities to be a single source provider for all openings and hardware requirements.
Working with the client's project team from the earliest opportunity we have been able to utilize our expertise and experience to provide the optimum solution for any given criteria. Add our capacity for off-site manufacture and configuration of complex performance door sets – with all the benefits this brings in terms of accuracy, cost, reduced on-site labour and time – and it makes for an undeniable value proposition.
As we own and manage the process from start to finish, negate many of the risks associated with multiple suppliers; this provides the project team with the confidence that the project will be supplied on time and on-budget.
Our involvement doesn't stop there, as we also offer full service, repair and maintenance contract for all our installed products.
We believe this overall package to be unique in our field."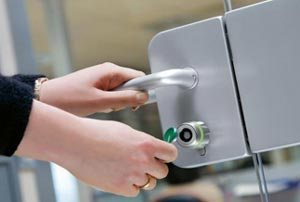 TEXXON has a well-established reputation for providing total door locking solutions, both mechanical and electronic, for residential and commercial securities.
Construction keying is the use of a single key, copied by trades people during construction. Each building company receives an exclusive system.
On completion of the project the owners are provided with a set of keys that on first use automatically cancel and reset the locking cylinder giving the owners a totally new locking combination. Access is no longer valid to trades people.
Keying Schedule Service is the preparation of floor plans that specify locking systems and key tracking location.
Master Keying is a method of controlling access throughout the entire building and includes a hierarchical key mapping chart or an Access Plan, designed in conjunction with the building management, which sub-divides door access into groups. At one level one key opens a number of doors and at the next level another key opens a large number of nominated doors on level one, and the next level even more.
Advising – our consultants have a comprehensive knowledge in all aspects of regulations and building codes to recommend only those products that are a suitable solution.
With an increase in technical complexity of buildings, compliance standards and fire codes, it is now more important than ever to specify the appropriate products.
TEXXON is a leading global provider of products and services that help make environments safe, secure and productive. The sector market-leading products include: electric, wireless and biometric access-control systems: time-and-attendance and personal scheduling systems; mechanical locks; door closers, exit devices, architectural hardware, and other technologies for global security markets.
Backed by the world-wide resources of TEXXON, we can open the door to total door hardware solutions.